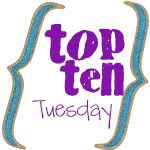 Yet again I am participating in a new meme where the goal is to list some of our top tens. Foe my first time I decided to share my top ten places where I find support, encouragement and thought provoking articles to help me in my homeschooling journey. So, here we go:
1.
The Homeschool Lounge
2.
Our Lifestyle of Learning
3.
The Homeschool Classroom
4.
Heart of the Matter Online
5.
Homeschool Blogger
and
The old Schoolhouse
6.
Homeschool skedtrack bestsites
7.
Simple Mom
8.
Simple Homechool
9.
Homeschool Enrichment
10.
Homeschool-Articles.com
Make sure you visit Amanda @
Ohamanda
for more top tens.