Online homeschooling programs are on the rise. Gone are the days when the only way to do school was to pull out this textbook and that workbook, sit at the dinning table, or the school desk, pencil in hand and start learning. Now, it's more get to the computer, log into this or that website and start learning.
Just recently I was given the privilege of reviewing yet another online curriculum.

From the website you can read
:
"Reading Eggs makes learning to read interesting and engaging for kids, with great online reading games and activities...


We created Reading Eggs as a unique online world where children learn to read. It supports each child's learning by offering individual, one-on-one lessons that allow children to progress at their own rate.
The program has been developed by a highly experienced team of educational teachers, writers and developers. The Reading Eggs program focuses on a core reading curriculum of phonics and sight words using skills and strategies essential for sustained reading success..."
Some facts about Reading Eggs:
It is based on the most up-to-date research on how children learn to read.
The lessons use animation, activities and reward games to keep children motivated.
The program is completely interactive to keep children on task.
The variety of fun activities within each lesson provides the repetition needed for these skills to become part of the child's long term memory.

Children earn golden eggs as

rewards

for work completed. They can use these eggs to buy reward games.

After 10 lessons, children complete a

Mastery Quiz

. This provides you with a report of what your child is learning. Children can repeat the online lessons as many times as they like. Young children enjoy repetition and it has great benefits too, as it helps them to learn.

Reading Eggs is a

safe site

where your child can learn many new skills. You can be happy that your child is spending time learning in a safe and fun online environment that is

advertising free

.

Each lesson builds on the previous one to build skills in the

five key areas

needed to become a good reader:

phonemic awareness and phonics

,

sight words

,

vocabulary

,

fluency

and

comprehension

.

The program includes

Skills Bank Spelling lessons

which are the core of the Reading Eggs learn-to-spell program. The Spelling Vault contains 96 carefully graded spelling lessons. Each spelling lesson focuses on a 12-word spelling list.



It can be used with or without the parent seating with child, encourages independent learning.
Reading Eggs also offers a variety of accompaniment books that are completely optional but helpful for cementing the learning. You also have the ability to print off worksheets from the parent's dashboard for more pen and pencil work.
Reading Eggs is designed for :
" 4-8 year olds who want to learn to read. The program begins at an absolute beginner level, so children need no prior knowledge to start. Children can learn to read using this program."
There is another level of Reading Eggs called
Reading Eggspress
designed for
8 + children
. It is meant to help student improve their reading comprehension as you read a variety of fiction or non-fiction books and answers questions about it that involves comprehension and to some degree thinking about the characters.
Reading Eggspress is made up of 5 locations:
The Gym where you read books and answer comprehension questions. basically where the lesson is done. You get Golden Eggs for this.
The Library where you read books for fun to earn more Golden Eggs.
The Apartment and the Mall where you have fun buying things for your house (more accurately your apartment) by using you eggs
The Stadium where you get to play live games against the computer or against another virtual player. The games are actually challenging, they involve grammar, comprehension, and vocabulary.
Cost:
$75 for a 1 year subscription
$49.95 for a 6 months subscription
$9.95 for a recurring monthly subscription

How the program works: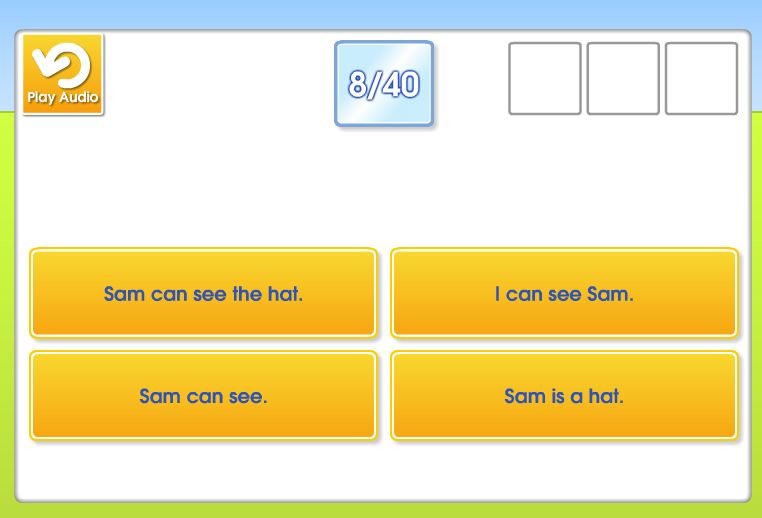 Once you log in you can start straight away at the beginning level of the program or, take a test to place the child at the appropriate level (with questions like the one seen on the right here.
I found that the test tended to put my boys at a lower level, but I figured there is no harm reviewing things you already know.
The program consists of 120 lessons in reading. Each steps are placed on a map that allows you to follow your progress.
Each lessons consists of a series of activities such as the one shown below. There is a nice variety of activities (about 7-9 per steps or lessons).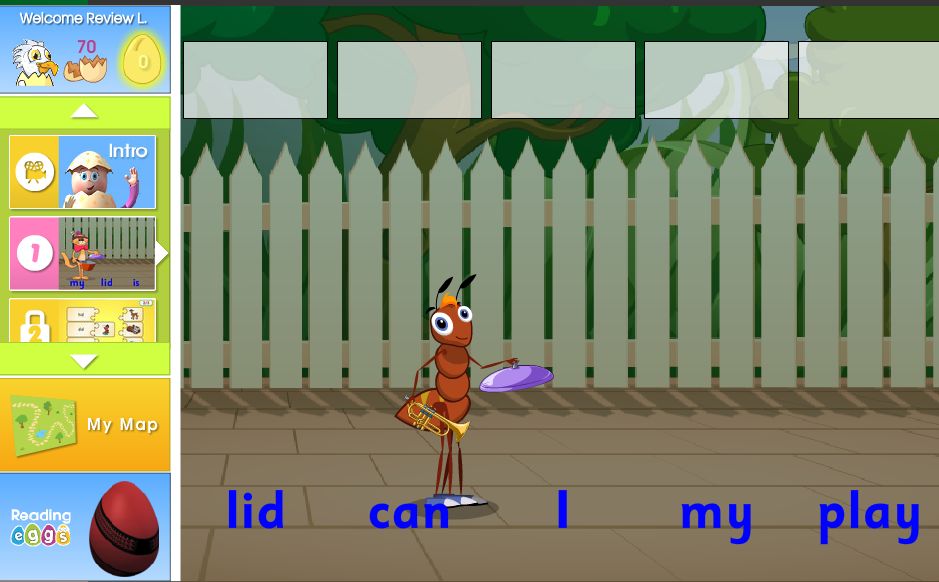 As the child gets through the activities he gets to accumulate golden eggs, which he can use in turn to build up his home or play games. It serves as a great motivation.
Our opinion:
Both my 6 year old and 8 year old are fluent readers, so the learning to read part was not quite needed, and so did not use it too much. I was very glad to discover that the program contained a spelling portion attached to the reading instruction. It is at the bottom of the reading egg map legend, on the left hand side of the screen shown below:
I, therefore, had the boys practice mainly this part of the program. I have to say my boys normally hate any kind of spelling practice, however, they had no complaint whatsoever when it came to have their daily spelling practice using Reading Eggs. They actually enjoyed it and even asked for it if I did not have them do it on a certain day.
The boys also spent A LOT of time using the Reading Eggspress part of the curriculum. This section was really their favorite. They got to read lots of interesting books, both fiction and non-fiction and answer comprehension questions about what they were reading (at the Library). It helps develop and challenge their critical thinking and comprehension skills. Just as in the Reading Eggs program, they enjoy accumulating Golden Eggs that they were able to use to play games ( at the Gym), as well and furnish their virtual home (by buying stuff at the Mall).
Screenshots from Reading Eggspress
My 2 boys absolutely enjoyed using Reading Eggs and Reading Eggspress. They've certainly improved their reading comprehension and spelling skills.
I would definitely recommend this program as a great learning curriculum, if you do not mind having your child at the computer.
To see what other homeschoolers have to say about Reading Eggs, make sure to check the
Crew blog
.

Disclosure: I was given a 3-month subscription to Reading Eggs free of charge, in exchange for an honest review.