Our latest review items was a gem. We received a DVD from the
Dive Into Your Imagination
series.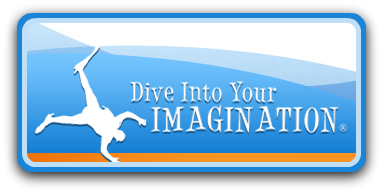 If you have never heard about it, I am here to tell you about it.
"The Dive Into Your Imagination DVD series entertains and educates children about the amazing natural world in the oceans."
" I created this Series of DVDs so kids will learn to love the ocean and grow up wanting to protect it"
The series of DVDs are put together by Annie Crawley, an underwater photographer, dive instructor, speaker, and boat captain for 15 years. She also has journalism and filmmaking experience. She has a contagious love for the ocean, and the world that exists in it, and she makes it a point to share it with kids through this series of DVDs. You can learn more about her at her site
Annie Crawley
.
The titles in the series, priced @ $19.95 each, are: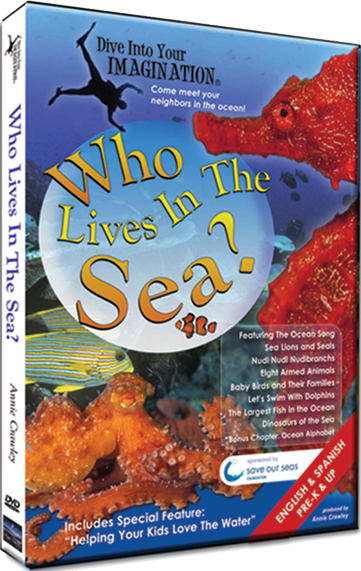 We received
Who Lives in the Sea
and the boys had lots of fun watching it. The DVD is very well made with outstanding cinematography. The pictures are very real, and draw you in, like you really were diving with the animals. Annie Crawley's voice is very soothing as well and pleasant to listen to. The music chosen for the background is very appropriate too. All in all watching this DVD is a real under the sea experience, as close as you can get, short of actually diving in.
This particular DVD covers dolphins, turtles, marine reptiles, sea lions, octopus, marine birds and sharks,
Annie also compiled a very exhaustive set of
guides
to go along each DVDs. They are primarily set up for schools (large, as in more than 300 pages, and quite involved), but can definitely be used in a homeschool or in a co-op setting. The guides contains PLENTY of activities to expand on the different topics and concepts covered or alluded to on the DVDS.
For each chapter of the DVD there is a corresponding chapter in the guide which covers the following:
Character Education
Imagination play
Student questions to prompt discussions
Ideas and support materials you can use to build learning centers which will help you combine science with other subjects, complete with worksheets, lab sheet for science experiments and any other info or printable needed
A glossary of scientific terms
Suggested book list and extension activities
There is a Prek- K level and a Grade 1-3 level guide.
The price of the guides are :
$299 per DVD title for all the levels together or
$69.99 for each individual level of a single title (printed or as a PDF)
But, for you my reader, you can get all the levels of an ordered DVD as a free PDF. Just mentioned that you are a homeschool parent in the notes section.
We loved the DVD. The boys enjoyed doing some of the activities from the guide like a crossword puzzle about dolphins, and we are looking forward to doing some of the experiments suggested in the guide.
Disclaimer: I was offered a Who Lives in the Sea DVD and the complete set of guide for the Dive Into Your Imagination series of DVD free of charge in exchange for an honest review. All opinions expressed are my own.