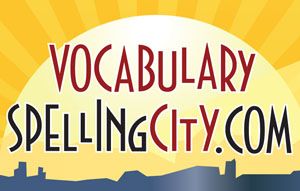 In the past month we have received
Vocabulary Spelling City
to review.
If you have never heard about Spelling City, you have missed a germ when it comes to online educational sites. My boys do not like spelling, and this is one subject I am having difficulty to fit into our schedule. I was very happy to receive this to review, as anything that can help in this area is more than welcome.
So, what is Spelling City?
From the website: "
Our mission: efficient game-based study of literacy skills using any word list.
" I think i
t does just that.
Vocabulary Spelling City is an
online spelling and vocabulary program
, which contains:
A REAL person who says each word and sentence

Free home pages

for teachers and parents to save lists

Free teaching resources with lists and lesson plans
In short, this program is the perfect companion for any Language Arts curricula.
What I love about it:
It is very adaptable
You can make your own lists
The word bank on the site itself is very abundant
It is interactive
You have Language Arts topics video lessons with related practice games and activities
There are printable versions of about everything on the site
There is a wealth of resources for parents and teachers
What I did not like so much:
I found the site overwhelming.
The variety of games is somewhat limited within each category, i.e, spelling games, vocabulary games, writing, etc... My boys were not that keen on the variety of games.
Price:
Premium membership: Up to 5 students /family: $29.99
The difference? Well:
No advertisement,
More games and activities,
Individual student login
Language Arts teaching with games and activities
Record keeping
Flashcard (printable and interactive)
Progress tracking
Who is this for?
This programs can work for students in kindergarten to grade 12.
Though my kids were not very enthralled with the site, I am still looking forward to using this this coming year along with our Tapestry of Grace history curriculum vocabulary. My plan is to input the lists they are supposed to learn and have them practice on there for spelling and definition. I am also going to have them use Spelling City as extra practice for grammar.
All in all I'd say give it a try and see how beneficial this can be in your homeschool! They also have an app for Ipad or Iphone, don't forget to check it out too.

Disclaimer:
I was offered a premium membership to Spelling Vocabulary City in exchange for an honest review.