One of our latest review product on the crew this season has made it to the list of my favorite products:
Family Time Fitness.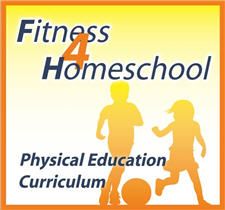 I do not know about you, but physical education has not been on my top priority list as I homeschool my kids. That said, I do recognize that both the kids and I could use serious exercise. I have one child you loves to move and does so 24/7 and one that is not so athletic (at least not yet). I was really excited to get this product for review.
I have to say I was not disappointed. This Phys. Ed. product is perfect for the homeschool family that wishes to add Physical Education into their schedule.
Family Time Fitness -Fitness 4 Homeschool
is a 260 planned lessons worth of physical education that comes in PDF files. It is divided into daily lessons for you to use. Each day you have a set of about 10-14 different activities to do, some easy, some a bit more challenging. The exercises range across a wide variety of skills such as balance, coordination, rhythm, running, flexibility, agility, strength, throwing, catching.
Each exercise works a different set of muscles, and though they are not all easy exercises, they are still very doable. You DO actually exercise. It is REAL workout design for kids, and adults, like me, who are in serious need of a workout. Each lesson offer returning exercises as well as new ones.
A very valuable aspect of the program is the available video clips of each exercise. Some exercises are easy to grasp through reading, others may require a visual aid, and they made sure that this was available for every exercise.
Price:
$57
You can check out their scope and sequence
here
.
The target age for their main core program is ages
4-13 or K-8
.
I would be amiss though not to mention that they also carry other products such as:
High school fitness program: strength training for ages 14-18 or Grade 9-12.
Learning the Language of Fitness and Nutrition workbook
Basketball sport module
Online Health class
Our opinion:
The kids and I loved it. My boys enjoyed the fact that they were moving (they are very active - boys!). My athletic son was in his element and enjoyed the activities. My not-so athletic boy enjoyed some of the exercises and complained about others. No matter what, they appreciated starting out the day with our exercise routine. It took us about 20-30 minutes to complete a day's set. The boys especially loved watching the video clips before doing the exercises. It is now a regular subject in our schedule, 3 times a week .
A few things that makes this program a winner:
The exercices are fun, yet work the muscles.
Little gear is required: different kinds of balls, bean bag, hulla hoop, jumping cord
Many of the exercises can be done indoor.
Each page of exercises has a version that only lists the exercises' names, which makes it easy to carry along if you print it.
The PDF file is easily transferable to any portable device.
No preparation needed.
The program is very adaptable and allows for flexibility within each family.
The program comes with an assessment tool, as well as some other optional tools such as food diary and tracking calendar.
This program certainly gets all my thumbs up. Make sure to go check it out and see how other crewmates enjoyed it.

Disclaimer:
I was offered
Family Time Fitness - Fitness 4 Homeschool
free of charge in exchange for an honest review.
.