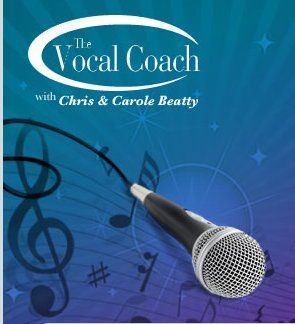 I think, thanks to the crew, that I have stumbled upon a gem. You see I love to sing, I have always sung, especially in choirs and bands. However, I have never been able to train my voice as I would have loved to, that is through formal training in a voice school. Well, I was finally given that chance through this last review product:
Vocal Coach
.
What is Vocal Coach?
Vocal Coach is a collection of vocal and singing training products produced by Christ and Carole Beatty, who have 40 years of experience in the field.
Vocal Coach teaches "
Good voice technique based on the knowledge that the voice is a physical, mechanical and acoustical instrument and that good foundations will equip you to sing any style you can honestly relate to."
The program promises that
"
if you start replacing bad habits with good ones the good ones will start to take over.
As you apply Vocal Coach training your muscles will start to automatically become more efficient. It just happens. And that's when things get really exciting. And, it's not magic. It's just good training."
Vocal Coach offers an
array of products
to help develop and improve your voice and your singing, and your kids' too:
Vocal Coach Singer

Complete Blend

Choir Warm-Up

Vocal Fitness

Teaching Kids to Sing

We were offered the complete Vocal Coach Singer to review. Vocal Coach Singer is a set of 12 CDs, also available as a download. This program is best suited for older students and adults but usable with younger kids too.

This set is made up of of the following CDs which can be bought separately as well: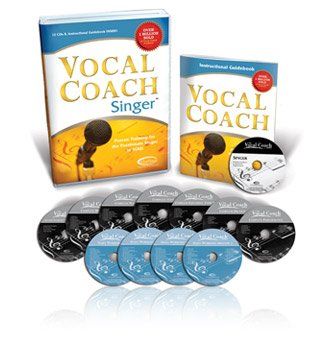 Complete Breathing

Complete Diction

Complete expanding your range

Complete Performance

Complete Tone

Complete Warm-up

Daily Workout -High Voice

Daily Workout- Med/Low Voice
The set also comes with a complete getting started guide CD which includes:
intros to all 8 topics,

a guidebook which tells you how the program works and how to use it

a set of printable resources such as music lead sheets, a work- out journal and evaluation sheets.
V
ocal Coach Singer is a big audio file that will take a bit of space and some time to download, but let me tell you, well worth it. The amount of information you are getting is mind blowing. I was able to put it and use it on my portable device (Blackberry Playbook) without any difficulty.
What makes Vocal Coach Singer such a gem is that it teaches you how to get a strong, well controlled speaking voice which you need for any kind of singing, public speaking. According to the website, you will learn:
How the voice works
How to find your best sound
How to control breathing even when you're a bit tense or nervous
How to be expressive in presenting your message
How to find and expand your vocal range
How to warm up and cool down the voice for both singing and speaking
What I love about Vocal Coach Singer:
The lessons are just the right length, so that you do not feel overwhelmed and can progress at a good pace.

The voices of Chris and Carole are very pleasant to listen to, which is important since it is all audio. There is a sample lesson on the home page, middle left.

The tone of the lesson is very engaging and inviting.

The lessons are straight forward and clear. Some of the technical aspect sometimes seems a bit hard to figure out, but one can seek to figure it out, in my case by asking my hubby.

The lessons contain lots of exercises, well demonstrated. Sometimes the pace of the exercise was a bit fast, but as you keep practicing you will get to pick up the pace.

The content of the lesson is very professional. You are getting the real stuff when it comes to voice training, there is no settling for mediocre teaching. That is why the lessons can be at time very technical.
I really like Vocal Coach Singer, the little bit I got to do so far gives me hope that I will be able to sing the way I know I should sing. I can already see some difference, now it is going to be practice, practice,practice, but thanks to Vocal Coach I have the knowledge and the means to improve.
If you have been wanting to improve your singing or even your diction, this is a must check out.
How much? Vocal Coach Singer costs $99.99 for the MP3, or $119.99 for the CDs, but as you can see, it is worth every penny. If you were taking lessons in a school you would be paying way more. This is about $2000 worth of personal coaching time.
Some of my crewmates got to review the Teaching Kids to Sing Set, so make sure to
check those out
.

Disclaimer:
I was offered a complete set of Vocal Coach Singer in exchange for an honest review. All opinions expressed are my own.