I know it is Saturday but I do not seem to be able to post on Fridays.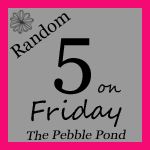 So, here we go:
1. This week was a sick week. My hubby was the first to be hit on Tuesday, then myself on Thursday and today it is my oldest. Mom and dad were really out of commission; not fun at all, coughs, aches, heavy head etc... Anyway we are almost there recovering.
2. This week marked the first day of our electives spring session. Even though I was just getting sick I kind of had to go, and the boys really wanted to go too.
3. Today is our anniversary. Praise God for 11 years of marriage with the joys, tears and challenges that life brings. But through it all God has always proven himself faithful. I praise Him for blessing me with such a loving husband.
4. I discovered 2 free curriculum this week which I am most intrigued in trying:
Classical House Learning
and
Easy Peasy All in One Homeschool.
5. The boys have been enjoying a new audiobook this week:
Archer's Quest
by Linda Sue Park