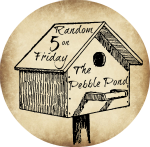 It's been almost a month since my last 5 on Friday. We have been busy around here.
1. We had a nice family gathering on Thanksgiving back on the 14th of October with my parents, visiting all the way from the Caribbean.
3. We got to enjoy a field trip at our new Lego Discovery Science here in Toronto. It was small but the workshop was fun, and the boys enjoyed a shooting ride, and a 4D movie.
4. I was pleased to be able to find some goodies at our electives' used book sale.
5. I was able to make up a few worksheets from scratch for our school. One is an invention worksheet, the other one a biography worksheet. It is funny, the boys were quite impressed by my work. Hooray for mom!
6. We are enjoying a week vacation in the province of Quebec right now.