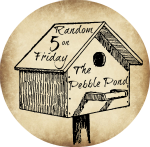 This is the second Friday of the year and the first of our 2014 school term. It went well. Here are my 5 random facts for the week:
1. We started school back and most of the subjects got done: Handwriting, Spelling, Math, Science, History, Geography, Reading, poetry, Bible, Logic, Kid Coder, Latin and French.
2. We had dinner at the Cheesecake Factory in honor of my coming birthday on Monday, which my hubby won't be here to celebrate with me. We also stopped to watch the frozen Niagara Falls on both the American and Canadian side.
3.The boys have been on a technology fast this week: 20 min/day ( TV, tablet games, wii etc...). They chose to play Wii for those 20 min. Joho is calling it a drought. I got yo admit they are doing quite well without it.
4. I ordered a new writing curriculum which I am looking forward to getting in a couple of week and starting with Zach: Writing & Rhetoric. I found a good review of it @
The Planted Trees.
5. My latest cooking creation, as of a few minutes ago:
Buffalo Chicken Bites