So, January is over. How did our first month of the year go? Here is a run-down of the top ranom 5 of the month: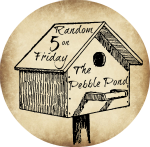 1. The boys' had a long overdue haircut..
2. Happy to have a portable e-reader now. Hopefully I will finally get through all these books in my kindle account.
3. We had a good first month of school. Our school subjects are going along just fine. Highlights:
We started a new writing curriculum and are loving it: Writing & Rhetoric from Classical Academic Press.
For our read-aloud we finished Around the World in 80 Days and are now reading Pilgrim's Progress.
We've been enjoing our study of WWII.
4. Another session of volleyball started yesterday for the boys, and everyone is happy that they are getting some exercice.
5. We went to the Science Center yesterday as a last trip as we have decided to not renew the membership and may be try to go for the Royal Ontario Museum membership instead.