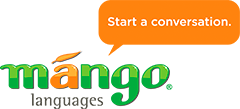 Learning a new language can be very beneficial in many ways. As I have mentioned before I am a native French speaker but have lived in English-speaking countries for over 16 years now. I also married an English-speaking man so we speak English at home. For some reason I have had a hard time teaching my boys French, so, I always jump at opportunities that will allow my kids to learn it.
Mango Languages
is an online language learning program that offers courses in over 60 languages. Among these languages you will find, French, Spanish, Italian, Dutch, Polish, Greek (ancient and Koine), Latin, Hebrew, Chinese, Tzeck, Bengali, Hawaiian and many more.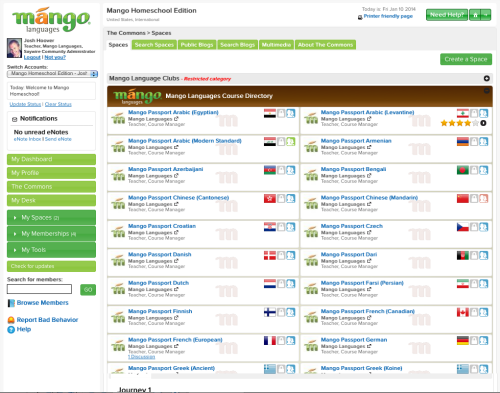 Mango Languages offers an array of products for different kind of uses. You can have an account for personal use, school use, homeschool, library, higher education, government or corporate. I got to review the
Mango Homeschool Edition
.
Mango Homeschool Languages could be used as a supplement or a full homeschool language program.

Mango Languages can be used with children from K-12, as well as by adults.

Here is a rundown of the advantages:
It is online, therefore you can work on it anywhere.

Large variety of languages that you can learn at the same time.

Incremental

Parents AND students can learn.
Mango Languages' interface is very attractive. The lessons are made of colourful slides through which you can navigate backwards or forwards. It is very flexible and user friendly.
Because it is an online program, you need a compute
r and an in
ternet connecti
on. You also need a log in and password. Once you are registered it is very easy to access the program and to navigate. They offer lots of tutorials to help you if you have any trouble finding your way around the site.
My opinion:
Mango Language is very easy to use, even if it offers a lot of options. It is a conversational type of language learning program. You're learning through hearing and seeing. There is no writing involved. They are working on adding some assignments but these are not essentials to the heart of the program.


I had both boys do French with Mango 4 times a week, at a lesson per day. My not-so auditory son had some trouble at the beginning to hear the pronunciation well. The good thing is that when you click on the word it gives you the phonetic pronunciation for you to see and decode. He got frustrated with it a bit, but persevered through it.
My oldest son, I found, did not thrive on it as much as I expected, given that he is my auditory child. That said, according to him he finds that the program is teaching him more things than programs he has used in the past, and he says he remembers more. So, I guess it is working for him.
What I like about the program is that it is spiral in its approach. It keeps adding new material but also keeps coming back to previously learned material. You are constantly reviewing content which helps to cement it in your brain.

Another things I really liked about Mango was how it encouraged critical thinking.
The emphasis seems to be on vocabulary, grammar and culture, all at the same time. It is very well integrated together.

My boys found the lessons a bit long, but interesting enough that they could finish it. They found it easy to use and liked the fact that it repeats things a lot.

I myself tried the program with Polish as our church is located in a heavy polish community, and we have one member who does speak Polish. I was not very diligent with it but with the little I did, I was surprised to see that it helped me understand my friend when he would say something, like good morning, and how are you.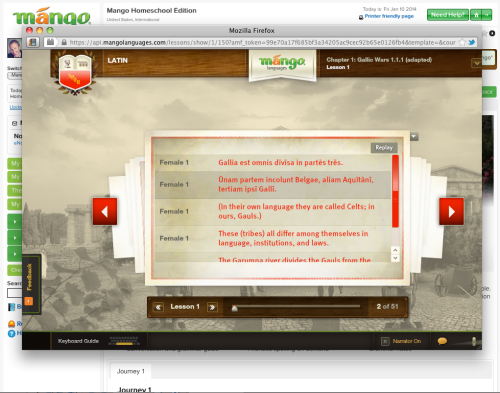 The program consists of chapters, which in turn consists of lessons. With each consecutive chapter, 1 more lesson is added, so the first chapter has 5 lessons, the second chapter has 6, the third, 7 etc.... At the end of each chapter you get quizzed with a variety of exercises such as placing words in their proper order and translation work. These quizzes consist of about 8-10 questions, at the end of which you get a grade. My over-achieving youngest son enjoyed doing these, which allowed him to evaluate himself, but found them hard. No matter your score you can still go to the next chapter.
Over the weeks of using Mango, I have noticed that he was trying to use the words he learned in everyday talk, which I really appreciate. That is the goal after all. Just for that I give thumbs up to Mango.
One major aspect of Mango Languages is its community side. Mango allows for learning in community with others through chats and forum. I did not use that part of the program because my kids are still young, and I do not particularly care for that kind of interaction. That said, it can be a valuable tool for older kids and adults using Mango.
A few valuable aspects of the program are still being added and/or worked on. Here is a run down of these:
Built-in journals, discussions and wikis

Collaborative learning spaces

eNote messaging
/chat rooms


Access to embedded/downloadable content

Support from other community members

Calendars to schedule meetings or study groups

Enhanced Tracking and Progress Monitoring - including seat time (for students and parents)

Goals and Personal Lesson Plans (both stand-alone and tied into Mango courses)


Resume and Portfolio Builder
Overall, I would say that Mango Languages is a good program with a lot to offer and lots of potential. Its conversational emphasis is very valuable, and is its strength. That said, it does add some grammar which makes it comprehensive. I would definitely recommend it to people who strive on an hearing/seeing combination for learning.
.
Price:
1 subscription is $18/month or $125/year total
2 subscriptions is $28/month or $175 /year total
3 subscriptions is $38/month or $225/year total
4 subscriptions is $48/month or $275/year total
5 subscriptions is $58/month or $325/year total
Anything over 6 subscriptions is a special group rate that will depend on the number in the group.