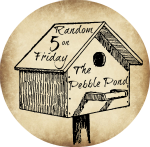 1
. I am thanking God an praising Him for celebrating 12 years of marriage earlier this month. I do believe that marriage is the best sanctifying experience ever. You grow, you laugh, you cry and have so much memories. The Lord has been so good to us, Glory to His Name! We celebrated witha steak dinner which made everyone happy.
2.
Finally some spring weather, yeah!!!!
3
. This month I have been enjoying listening to some live stream conferences (
Ligonier
and
Together for the Gospel
). It has been very encouraging and challenging.
4
. Have you checked yet the Ultimate Homemaking Bundle. Don't delay it's around only for 6 days!
5
. My find for this week:
britishpathe History video
: 85,000 historical films.