It's Friday and time for a random 5 post:
1.
I received my Hey Mama planner a couple weeks back. It's already being put to good use. Along with that, I have started buying our next year curriculum, and am in full swing planning for next school year.
2.
The boys and I have been enjoying watching the World cup.
3.
I have one excited boy today: we just got the Lego DVD and as if that was not enough it came with a free child admission to Legoland. That's one ticket down for during our trip to Florida this summer.
4.
We had a great church picnic at a close by park right after the service last Sunday in honor of Father's day.
5.
Monday was our Homeschool Track and Field. Johann won a gold medal for his age group one more time, and Zach just enjoyed the day.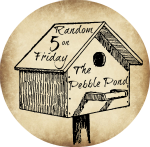 Have a great week-end!