Adding the Arts to our homeschool is often a challenge. Music lessons most often seem to be a luxury, yet every one would agree that they offer great benefits to the education and development of our kids.

Recently we were privileged to be able to review
HomeSchoolPiano - Complete Set of Books
put out by
HomeSchoolPiano.
We receive a lifetime subscription to HomeSchoolPiano -Complete Set of Books for up to 5 students. What a blessing!
I hoped to have my violin player get a start on piano, as his theory is not that great, and have my 4th grade level piano player learn some improvisation. So we tried to use this 3 -4 times a day.
The details:
HomeSchoolPiano is a subscription program that gives you access to online piano lessons. These lessons are suitable for all ages, even adults.
Once you purchased a subscription it is for life and you have access the online lessons plus 3 books worth of downloadable music sheets to be printed out for use along with the lessons.
The lessons can be streamed and/or downloaded.
The course divides as follow: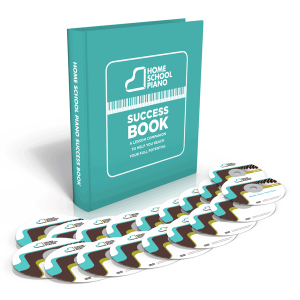 CorePiano = absolute beginner
Book 1 = beginner, maybe brushing the dust off and coming back to piano
Book 2 = beginner to intermediate (starts incorporating more complicated concepts, songs and improvisation ideas)
Book 3 = intermediate (toward the end of this book we are getting into concepts like syncopation, voice leading and more advanced scales for improvisation)
Each books consists of about 6 units which are set up in the same way:
Technique
Rhythm
Ear Training
Note reading through songs
Improvisation
The lessons are streamed and a teacher, at a keyboard, teaches the concepts and shows you how it is done on the piano. Then the student is supposed to go and practice whatever it is he was just taught on his/her own piano. This part of the process is very important as the lessons build on the skills acquired as you move on. The streamed lessons are about 5-15 minutes depending on the skill being taught.
Price:
Homeschool Piano has 2 payment packages:
1. Success Package (One payment of $299):
Unlimited life-time access to HomeSchoolPiano along with all bonuses (downloads, jam tracks, sheet music) for up to 5 students.
2. Payment Plan (Payments of $99.97 per month for three months):
Unlimited life-time access to HomeSchoolPiano along with all bonuses (downloads, jam tracks, sheet music) for up to 5 students.
The goal of the course is to ultimately teach students to be able to improvise and be very confident at the piano.
The Teacher:
Millie Myette is a music graduate from Berklee College Music. You can read more about him on the about us page on the website.
Opinion: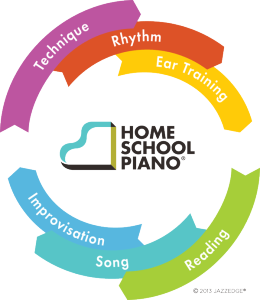 I like the concepts of the course. I like the way it is incremental and builds one upon each others. I like the inclusion of the improvisation element. It covers the important elements of any music course, that is, technique, note reading, and rhythm. However, somehow my kids were not taken by it. I found it difficult to have my kids get to the computer everyday and do their lesson. When they did do their lesson, they were not very enthusiastic to practice what was taught. Some of it might be because they found it a tad boring, especially the technique and rhythm part, which tends to be repetitive, but which you do have to teach. Another reason might be my youngest does not have good rhythm and ear skills, so he found it hard to practice those.
I think this is a very solid, comprehensive course that could benefit many. Once I find time to get into it for myself will I definitely try to to give it a go. As for the boys, I will seek to plow at it still as the skills that it teaches are really useful and my boys could surely use them. I love the jazz bent of the overall course.
A few aspects of the program to note:
It picks up from where you stop on the last session.
You can see the notes and the fingers playing clearly.
The songs used are catchy.
Sometimes it is a bit technical and hard to follow. You may have to listen to the lesson a couple of times to get it.
It is a lifetime subscription.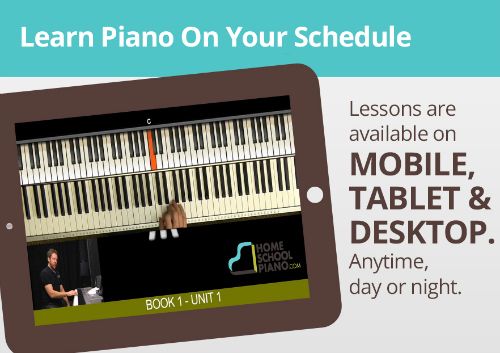 One advantage to note is the flexibility of the program as you can use it on any device. I have to admit we had some login issues at the beginning of the review due to change of server, but since then it has worked like a charm.