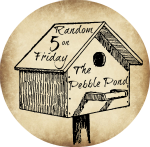 I've missed a couple of Fridays, but here I am today to recap the past few weeks.
1
. The boys have been into baking for which I am very thankful. They've been making cookies, according to their taste, which have turned out pretty good.
2.
We've been going through
A Child's Introduction to Art
pretty slowly, but we finally had an art time and made these Illuminated Letters.
3.
My boys' new hobbies are their PS3 (Fifa World Cup Brazil, Lego Movie and Lego Marvel games), and indoor football. Don't ask how the latter work, only my kids can manage to play football (I mean American Football) in a1050 sqt apartment.
4.
Johann has rekindled his love for puzzle, as I asked him to do them for me to make sure all the pieces were there for a potential sale. Any takers?
5.
In School, we are troding along:
Vocabulary, History, Handwriting, Spelling and Writing are going slowly.
Math is going steadily. I need to increase the amount of work, but may be will wait until January.
Science is going steadily as well. Zach really enjoys his biology course with Standard Deviant. I need o figure out what to do once that's done. Thinking of using The Biology4Kids website.
Logic is going along with Johann. Zach has been slacking on his. Time to get going on it.
Latin is going for both of them, steadily for Johann, slowly for Zach.
Their daily hour of reading has been made up of The Penderwicks, The Mysterious Benedict Society, Hardy Boys and their newly acquired Horrible History and Horrible Science books