Fridays seem to come so quickly and end so quickly. So, here I am again, doing my random 5 on a Saturday.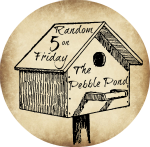 Past 2 weeks in review:
1
. Last week we had a profitable time on a field trip exploring the great outdoors. The boys did rock climbing, canoeing and orienteering.
2.
This week we learned a new board game:
Ticket to Ride
. We are board games lovers here, and a friend owned that one so we were able to learned it. It is a fun game!
3.
I am in full mode planning, which is going to be a couple months process, between finalizing next year's curriculum, and planning them out. Yesterday I came up with a new planning sheet, which hopefully I will get to share with you all. I am trying it out with our remaining 6 weeks of school work to do.
4.
My parents are visiting from the Caribbean. It is nice to have them on the same continent.
5
. Johann's baking from yesterday: Banana Chocolate Muffins. Fridays are his baking nights.