It's been a while since my last random 5 on Friday post. Since then, a lot has happened but here are 5 random facts: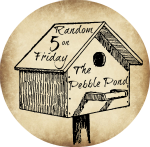 1.
We ended school the last week of June and took July off.
2.
In July, we had our VBS and a few community outreach events with our church.
3.
Hubby had a birthday which turned into a day trip to the Bruce Peninsula in Ontario.
4.
I have been planning our next school year also during July, since we start back school next week already. You can see what we gonna be using in my
Curriculum Choices post
.
5. I downloaded Windows 10 today and so far I am a happy girl, as my computer has been working better that it has been in the last few weeks. Yay!!!!!