Homeschooling is a venture. As such we often need a lot of help on the way, and fortunately there is a lot of it available on the web to make this homeschool journey feasible. One of those is the Christian HomeSchool Hub, also referred to as
CHSH-Teach.com.
The crew was blessed with a one year subscription to the
CHSH Download club
, which gives you unlimited access to everything on the site (over 50000 downloads) - a $25 value. There is also an option for a lifetime subscription. Now if you are a resource and curriculum junkie like me, you will want to check CHSH out!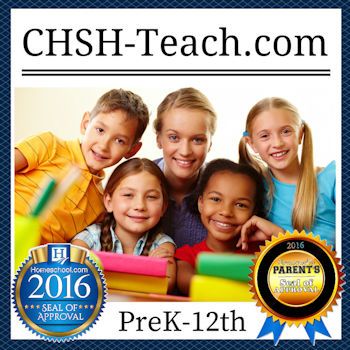 What is CHSH?
CHSH is, as the name suggest, a hub where homeschoolers can find a wide array of helpful resources and material to use in their homeschool, as well as load of encouragement. At the CHSH site you can find resources for all grades from kindergarten to high school. Here are a few highlight of what CHSH offers: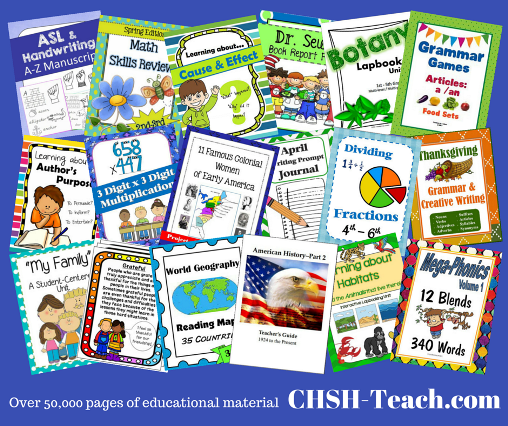 Math, Science, Language Arts (with Literature Studies, comprehension units, reading lists and books), Music, Art, Crafts, Bible, Foreign Languages, Health, Social Studies (including both Geography, History - US and World - government, election unit studies, inventors and more), and some electives topics.
These resources are downloadable and printable. Can't get easier that that. Browse, preview, download and print.
Another neat resource that you can find at CHSH is their downloadable material related to each month of the year.
Resources for organization (forms, calendar, record keeping, chore charts), and classroom helps such as awards and flashcards.
Lapbooking and notekeeping resources, as well as fun printable such as puzzles, coloring pages and word searches.
Complete curriculum treasures from the 1800's and 1900's as well as more recent curriculum put together by members.
With this amount of downloaded material available, often time the problem is finding what you need. Well, CHSH has a search engine that allows you to search by topics and subjects, grade levels, or keyword, which make it easy to navigate.
Also, at the CHSH website you can participate in forum and chat with like-minded homeschoolers. I personally like the newsletter that you receive in your e-mail telling you what's new on the site and giving pieces of encouragement.
The site is constantly growing and one way this happens is through the submission of new material by the members themselves.
At CHSH there is something for everyone. I use it mostly as a complement to what we are already using in our homeschool, by printing worksheets, or posters, but you could plan a whole school year of teaching using CHSH-Teach.com. I like their spelling curriculum and will be using this with the boys, as this is an area that they are somewhat behind.
CHSH is a great place for homeschoolers who like to put their curriculum together. It has a lot for you to teach your kids. For those who use curriculum, this would still be a great place to find extra worksheets, or posters and classroom helps.
Though this is a paid membership site, CHSH offers a wide variety of items for free, so make sure to have a look at those!
CHSH is very active on social media, so check them out: