I am back reviewing for the Schoolhouse Review Crew and I am thrilled to start the year with one of their wonderful product:
SchoolhouseTeachers.com
. I have known of SchoolhouseTeachers.com for a long time, but every time I go check it out there are always new exciting things to be discovered. SchoolhouseTeachers.com is your resource heaven for homeschoolers, and I am not exaggerating! Let me tell you why.

In this review I will be talking about all the resources and benefits you get with a
Yearly Membership
to SchoolhouseTeachers.com.
So what is SchoolhouseTeachers.com?
SchoolhouseTeachers.com is an all in one online curriculum where home educators can find everything they need to homeschool their kids from preschool to highschool. At SchoolhouseTeachers.com you will find curriculum for all subject matter and for every levels, preschool, elementary, Middle School and High School.
When I say SchoolhouseTeachers.com has everything, here is a list of all the subjects and topics you can find resources for:
Art
French
Latin
Greek
Spanish
Language Arts
Math
Science
Computer and Technology
Bible
Drama and speech
History
Geography
Health and Fitness
Social Studies (Government, Economics, Career)
Music
Unit Studies on all the topics just listed as well as holidays and transportation
I particularly love their electives section which includes:
Architecture
Business
Film
Accounting
Cooking
Graphic Deisgn
Photography
Image editing
Social Justice
Leadership
Homesteading
With my oldest being in grade 9, I was very interested in having him take the career course elective. Most of it is done online, so I had to set my high schooler up to SchoolhouseTeachers.com on his computer. Most of the courses work in the same way, where you have to click on each lesson of the course so as to be taken to the actual lesson page. I also printed the lesson plan and workbook for him to answer the questions in.
If all of these were not enough, SchoolhouseTeachers.com has resources for parents, the perfect homeschool parent support. You will find help with:
Lesson planning and homeschool planners for everyone (which was of course my first stop!).
Grading
Special needs
E-books and courses on almost every possible topic you might need help with ranging from homeschooling to homesteading. This is a section I definitely want to explore more.
Menu planning
Charts
Certificates
All the resources at SchoolhouseTeachers.com are easy to find, as everything is organized by grades, or by levels, or in their appropriate categories. The whole site makes perfect sense and is easy to navigate.
Additional Areas
SchoolhouseTeachers.com has a few other adds-on on top of the full scale curricula that it offers, and these, add even more appeal and make it really well rounded.
Focused Learning Centers. These are places where they did their best to pull together all the resources available for you to address a particular subject matter.
Playschool Playground. Having had a baby recently, I was excited and curious about that one. There is a lot in that section to keep your little one entertained and busy. This area is organized by topics: Bible, Motor skills, Language Arts, Craft and Music, Manners and Healthy Habits, Numbers, Patterns and Cognitive Skills, Science, and Social Studies. I loved the songs and nursery rhymes that I was able to play for my 9 months old, but there are also plenty of printables, games and activities to explore and use.
The Video Library. Not only SchoolhouseTeachers.com offers you tons of curriculum, printable lessons and activities, it also offers you a wide array of videos for every levels and subjects. You will find educational, entertaining, and engaging videos, ranging from leaning to read, to studying apologetic. If you have ever heard about RightNow Media (the Netflix of Bible study as my husband calls it), you get free access to a lot of its content through SchoolhouseTeachers.com.
The World Book. With SchoolhouseTeachers.com you can have access to a multitude of libraries through what is called the World Book. This is an invaluable resource. With access to many databases of articles, videos, encyclopedias, interactive resources, games and activities, research and exploration of themes and topics are literally at your finger tips. You do need a log in, which your membership provides you with, and then the world of learning becomes wide opened to you. You can browse this section by category or by grade level. Again, the preschool section was pretty cool! That said, I planned to have my older boys use this in the future for any project that they will have to work on.
The Literacy Center. Here you will find all the resources needed to improve reading and comprehension, all gathered in one place. I love how they provide you with a collection of downloadable books and early reader collections among all the other help, strategies and resource to help your preschool and elementary children on their road to becoming fluent readers.
SchoolhouseTeachers.com's wonder resides in the breadth of what it offers. I have not quite seen an online resource that well stocked. Yes, it is online, and for some that is a stopper, but a lot of it can be printed and just the videos and World Book access would justify the membership. This is the perfect option for homeschooling on a budget as you get everything you need in one spot. It is very well rounded and exhaustive. If you already have your curriculum set out, this is still perfect for filling gaps or complement any topic or subject. I personally am planning to have my High Schooler do the Media Socialization course, as he is very much into movies, and count it as a credit.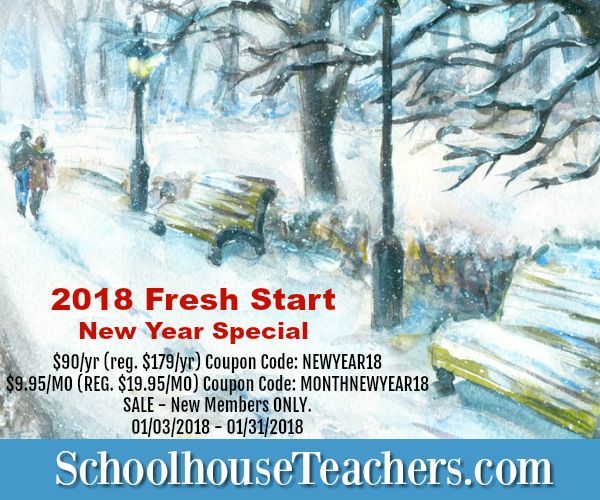 For more on SchoolhouseTeachers.com, read what other bloggers have to say about it and make sure to check it out on social media: