Looking for reading and spelling resources here I have an online reading software to suggest to you worth checking out.

Samson's Classroom is an online software that endeavours to create better readers. That said do not let the word "reader" fool you, the software does more than help your children with reading, it is also a great resource for helping with spelling.
Samson's Classroom is actually 3 products in one:
Sight Word Samson: "This engaging product is proven to help early readers master the 224 most commonly used words in the English language."
Spelling Samson: "With more than 5,000 words and counting, Spelling with Samson is the most comprehensive spelling product on the market. "
Reading Samson: "a cutting edge software product that helps students analyze reading material and learn how to draw conclusions and answer questions based on that material."
Samson's Classroom is really a world class reading software that targets the reading ability of children. On Samson's classroom you have interactive practice of sight word reading lists, as well as spelling lists. You also get to practice and improve comprehension skills. If that was not enough for you to work with, one of the best component of this software is its wealth of printable resources:
Lesson plans, with flash cards to print, and a w
ide variety and range of worksheets for each of the levels and lists.
Each product in the Samson's classroom software is divided into 4 levels. The activities within each levels are the same, but target a different list of words, or in the case of reading uses a different story.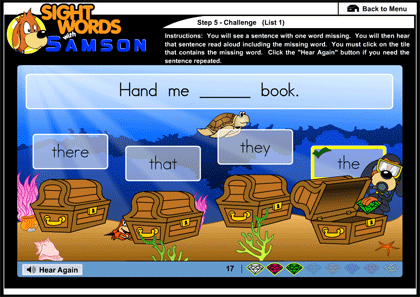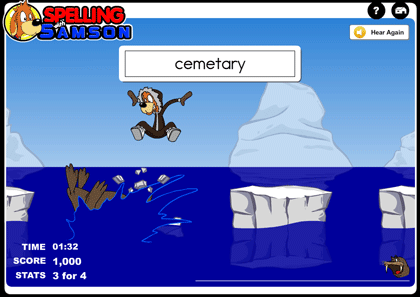 Each child gets their own login and the parent has a separate login as well. On the parent's page, you can update the students, their grades and levels, and see their progress on the scoreboard. This is also where you can create customized spelling lists, in addition to the graded lists already available.
Who is it for?


Samson's Classroom is for any child Jk to Grade 5, but can be used in any grade.. I used it with a 4th grader and a 2nd grader.
How much is it?
Home: 1 user: $30
Family: 4 users: $50
Our Opinion:
My boys NEED spelling practice, so I was happy to try Samson's Classroom. The boys got to practice sight words and spelling lists in a fun way. The activities are engaging and interactive. There is quite a bit of repetition which allows for mastery of the list. I just had them do a list each session at the computer, which would take more or less 1/2 hour, and they were done for spelling.
The only negative aspect of this program is the absence of phonics, but that's because its emphasis is on sight words' mastery and comprehension skills.
The boys do not enjoy spelling as a general rule but did not mind their Samson's classroom session, they would not ask for it necessarily but the complaining was not that great. The software is easy to use, the activities straight forward for the most part the boys did not complained much having problems using it (they usually are on their own when it comes to computer program - I just check on them to see how they're doing). For the spelling it took a few minutes to figure out how it works, but no bug deal.
I was able to use it on our Mac with no problem.
Want more reasons to look into Samson's Classroom check the 10 reasons the authors give on their websites.
This program deserves a look, so make sure to check out their demo and my crewmates' reviews.

Disclaimer: I was offered a one-year subscription to Samson's Classroom in exchange for an honest review. All opinions expressed are my own.