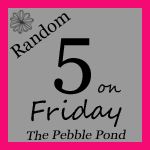 1
. I am happily surprised that Zach is enjoying one of our newest review product:
Kid Coder Web
fom Homeschool Programming. It is a web design course of kids. So far I am liking it too.
2.
School has been winding down. We are basically covering Math, review stuff, French and handwriting. I have recently found a French workbook for Zach to work with. The good thing is that Zach does not mind working on it, and I find the workbook acceptable:
Having Fun with French
. (I tend to be very picky when it comes to French material). We have been enjoying our new Bible curriculum as well:
Bible Road Trip
- I mentioned it a few weeks ago.
3.
I have discovered a Canadian kids' book series, and to my surprise the boys have been enjoying them. Zach does not particularly like fiction books, but has been reading these front to back:
Canadian Flyers Adventures
. Thankfully they are available at our local library.
4.
I have been working on finalizing our curriculum for next year and doing some advance school planning - more brainstorming and researching than anything.
5. A Quote to share: From Jerry Bridges' book
Respectable Sins: Confronting the Sins we Tolerate.
The quote is originally from Newton:
"[One of the marks of Christian maturity which a believer should seek is] an acquiescence in the Lord's will founded in a persuasion of his wisdom, holiness, sovereignty, and goodness. … So far as we attain to this, we are secure from disappointment. Our own limited views, and shortsighted purposes and desires, may be, and will be, often over-ruled; but then our main and leading desire, that the will of the Lord may be done, must be accomplished. How highly does it become us, both as creatures and as sinners, to submit to the appointments of our Maker! and how necessary is it to our peace!..."