The past few weeks have been busy for us. So, here are 5 random events that characterized our month of July: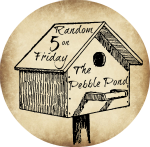 1.
We had a wonderful Daily Vacation Bible School at our church last week. We praise the Lord for his blessings and all the fun the kids had.
2.
Hubby and I rarely go to the movies but we were able to do so in july, and enjoyed watching
Star Trek: Into Darkness.
3.
We finally gave in and subscribed to Netflix. I am a bit disappointed though, that because we are in Canada, we are missing out on a lot of cool stuff only available on Netflix in the USA
4.
We also had a cherry picking / hiking in the Niagara Fall area. It was a lot of fun!
5.
My plans to doing some school this summer did not quite work out, so we ended up taking July off as we have done in previous year. School will resume on the 3rd week of August. I'll try to see if I will be able to do some of what I had planned for the summer in those first 2 weeks of August.
As a extra here are some pics from a short trip to Montreal the last couple of days:
Montreal City hall
@ the Redpath Museum