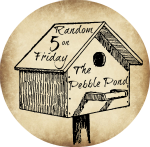 It's time for a random 5 post and a monthly wrap-up.
1.
This week the boys had a planned break that turned out being a light week. I required
Mango Languages
(as it is a review item), Bible and regular readings.
2.
Joho is really happy that he got to go see the Lego Movie with some friends from church. I am so grateful for church family.
3.
Where are we in school?
In Math
, both the boys have been working on decimals and problem solving.
Writing and Rhetoric
(our new writing curriculum) is going really well. Everyone is enjoying working with it. It is a lot of fun to study the fables, summarizing and emplifying them. They both find it easier to amplify a story than summarizing it, but it's coming.
We've been doing most of our
Grammar
through the
Logic of English
and that's working out well, as it allows for them to review things we have covered in the past.
In History
, we just concluded our second unit in TOG with a little study on Israel and on The Cold War. Next week we will start unit 3 with a study of India in the 20th century.
We've been doing a lot of science experiments using our Science and Math science DVD review item.
4.
Last Monday was family day. What did we do?
Watch Lone Ranger and Epic
Played Settlers of Catan and Wii
5. Here are a few pictures of what I have been cooking lately:
Chicken Tortilla Soup
Parmesan Garlic rolls
Lasagna Soup