We were delighted in the past month to review a science experiment DVD. It came from
ScienceandMath.com
, a company dedicated to providing resources in Science and Math to help students understand the subjects better, and enjoy them as well.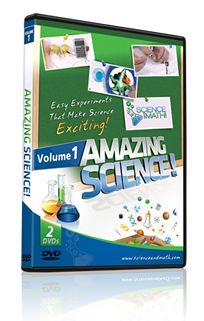 ScienceandMath.com offers focussed products:
We were not disappointed. We all enjoyed watching the video, better yet we enjoyed actually doing some of the experiments.
The DVD is great for all ages. For the young ones (K-G.2) the explanations might be above their head, but they will surely enjoy watching what happens with each and every experiments, which will help spark curiosity. I used it with a 3rd and 5th grader.
This DVD comes in two disks. Here is a list of what is covered:
| | |
| --- | --- |
| Disk 1 | Disk 2 |
| 1) Color Changing Milk | 13) Floating Eggs |
| 2) Egg in a Bottle | 14) Keep Paper Dry Underwater |
| 3) Exploring Air Pressure | 15) Dry Ice Bubbles |
| 4) Build a Lemon Battery | 16) Balloon in a Candle Flame |
| 5) Inverted Cup of Water | 17) Ocean in a Bottle |
| 6) Candle Suction Power | 18) Build a Motor with Lights |
| 7) Amazing Magnetic Force | 19) Simple Lava Lamp |
| 8) Lift an Ice Cube with String | 20) Invisible Ink |
| 9) Unburnable Money | 21) Density Tower |
| 10) Matchstick Speedboat | 22) Soda Can Fizz |
| 11) Reversing an Image with Water | 23) Build a Motor #2 |
The boys especially enjoyed #1, #2, #5, #6, #8,#9.
We watched and did a few of the experiments in one day. They were really excited about the video. After that, we kept watching it everyday until we finished the video.
This DVD can be used either as an introduction to some science topics or as illustrations of a topic being studied.
I also like that the majority of the experiments required household items. This is usually my problem with most science experiments projects I have come across. We were able to do a lot of the experiments without having to go out and buy anything. There are a few that you might need to get, but you can do a lot of them in he meanwhile.
One last thing I really appreciated is that the experiments actually worked. I have tried a lot of experiments in the past that I just could not make work. I did not encounter many of these on this DVD (did I at all, I do not even remember), and just for that this gets my thumbs up!
I think the presenter is very knowledgeable and gifted in explaining the science concepts in question and making science alive and interesting.
On the website you will find the following:
* Learn with step-by-step Science Experiments
* Every experiment is easy to perform
* Get excited about Science!
* Learn fundamental principles of science through Amazing Science Experiments! * You'll learn about electricity, magnetism, heat, temperature, pressure, surface tension, buoyancy, and much more.
THIS IS TRUE ADVERTISING!
2 things that are missing are:
A printable list of all the supplies needed
A printable list of the concepts studied with their corresponding experiments, for easy navigation through the DVD.
Apart from these,
Amazing Science DVD
is a winner and I can't wait for a volume 2 to be released.
When my youngest son saw the science experiments, his reaction was : "Now, that's what I call science experiments!"
Price:
Physical DVD: $17.95
Digital download: $14.99