One of our recent review item has been an online science curriculum called
Supercharged Science
. We received a one year subscription to the
e-Science Premium membership.

Supercharged Science is a hands-on, complete K-12 science curriculum written by a very knowledgeable scientist (BA and MA in Mechanical Engineering and worked on rockets at NASA).
Supercharged Science is a full program rich in experiments. The author took the time to prepare videos of a vast, and I mean vast, number of experiments in every science topics out there. She included explanations of the experiments in written form, as well as in the videos themselves.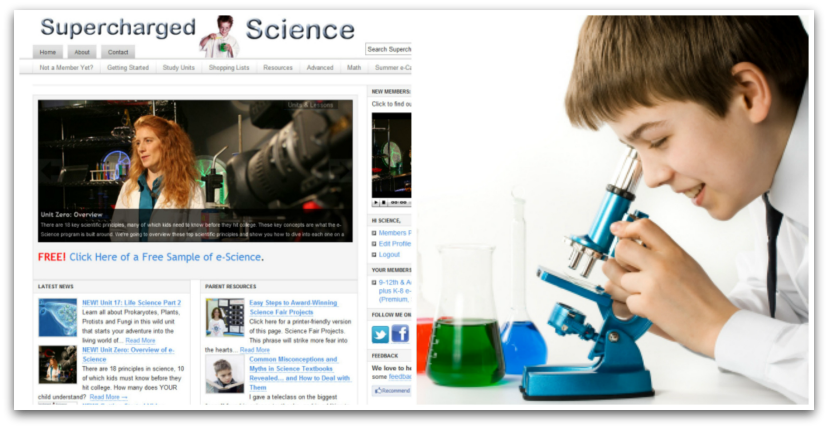 It is an online program which means you need a computer, internet connection and a log in. The material covered can be searched by topics or grade levels.
Topics covered include:
Mechanics
Motion
Matter
Energy
Sound
Astrophysics
Chemistry
Light
Electricity
Magnetism
Alternative energy
Thermodynamics
Electronics
Life science
Biology
Earth Science
Some more advanced topics
Each topic consists of a unit. Inside each unit are:
A getting started/introductory video and text
A download link for the textbook text of the whole unit (lesson, experiments, questions)
Link to the shopping list for the whole unit
Link to each lesson. There usually is 2 lessons within each unit.
Link to each lesson's set of experiments
Link to each lesson's textbook reading
Link to each lesson's exercises
The site looks overwhelming at first, but there are lots of videos to help you navigate it through.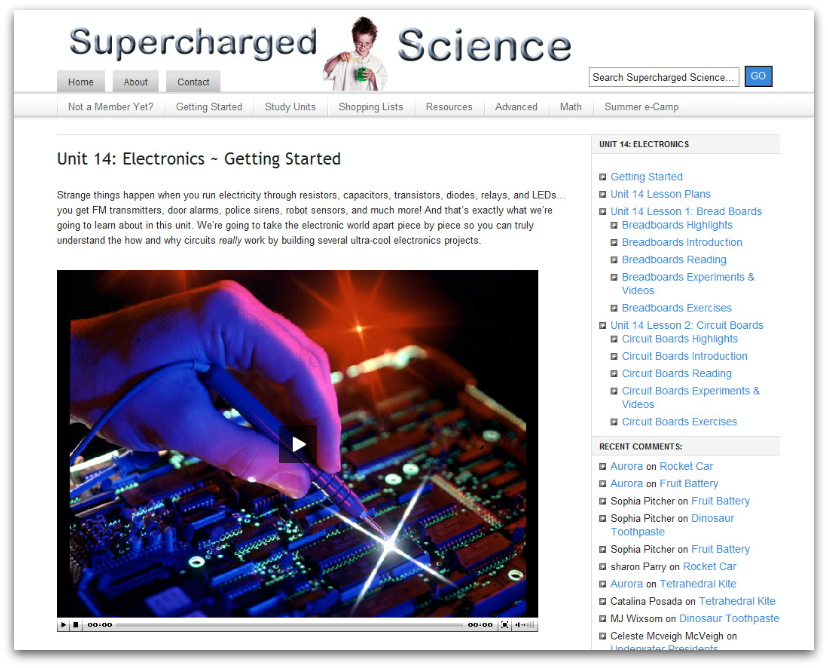 A lot of the experiments require extra material, meaning buying apparatus, but you can find experiments that only use household items. We mainly did those ones.
Our opinion:
I am not a science geek. My husband has a degree in chemistry but does not have much time to do school. So, I am usually the one doing it. I am not a big fan of experiments because they do not always come out right and I do not like that.
I had heard of Supercharged Science before and had known about its abundance of experiments and how excited Aurora is in teaching science.
Supercharged Science is a great way to get your kids to experience and love science. The experiments are varied and engaging. Aurora is enthusiastic and you can tell she knows and love what she is doing.
Since the boys are all over the grades I decided to use the program by topics. You can start from the very beginning and make your way through by picking whichever topic interests you. We kind of jumped around according to what they wanted to explore. We did Matter, a bit of Astrophysics and poked in a few other ones.
A few of what I like about Supercharged Science:
The amount to choose from. It is really a buffet of experiments and topics.
The experiments are shown in a step by step manner. You can see and hear in the video how the experiment goes. And then you can go on and do the experiment following the written instructions.
Each experiment has a list of the material needed.
Each unit has an introductory video which sparks your interest in what in going to be covered.
The review exercises which are in the form of questions
The downloadable format of the unit, which you can print.
It can be done independently if the child is motivated enough.
We enjoyed especially 2 of the experiments:
Though I like the way Supercharged Science teaches science, I found Supercharged Science difficult to implement in our homeschool. She does say on the website that implementing this program demands a deliberate effort to schedule it in. Being the not so schedule kind of mom, I had problems making sure it was being done every day as I had hoped and would want.
The boys (and myself) really enjoyed watching the videos and doing the experiments, but taking the time to decide which one we were gonna do was were I had great difficulty. There are so many topics to choose from, so many experiments to choose from, and the "can't decide" type of person that I am somewhat dreaded having to go through the process. I had to go through the ones I thought might be interesting to do, then go through the material needed. If I did not have them, we would watch and then go on to another one.
My boys did not particularly care for the reading part of the program but I think it is because they are still young (8 and 10). I would have to read the material in advance and talk about it while or after we have done the experiment.
I think the depth and breath of this curriculum is astounding and worth every penny, you just have to make sure you are a well organized person and be ready to invest in the apparatus. You would still benefit from the program, but given the cost you would want to make use of it to its maximum potential.
Supercharged Science is a monthly subscription with different options, the one we received K-12 level costs $57. There is also the K-8 level which cost $37.