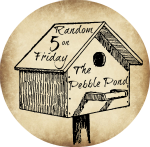 A new school year has started and it is time to resume Random 5 on Friday as my way of summing up our week.
1. School got done 3 days this week, due to Monday being Labor Day here in Canada.I am pleased to report that our new school schedule held up, hooray!!! I mean not without any hiccup, but held nonetheless.
2. My parents offered me an iPad recently and the boys have been enjoying doing some educational activities on it. Zach's new French program,
Duolingo
, is done on it, and he is very happy with it. They've also enjoyed watching the free daily video from
Brainpop
.
3. We had a playdate on Thursday with a new homeschooling Friend. Gym and swimming for the kids and good chatting for the moms. Don't I love those?
4. We've decided to do Transparency maps for our geography map work with Tapestry. This is going to be interesting. New territory for us.
Zach working on his base map of Ancient Egypt
5. We enjoyed our discussion of Tapestry accountability and thinking questions over dinner with daddy. We all enjoyed it. I figured this was a good way yo get dad involved in it and lessen the load on me.
Have a great week-end!