So, this is our first week back to School for 2015. Thank God it was a rather productive week.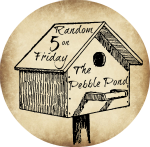 1.
Mom was up and running before the kids all week this week. It is amazing how it changes the atmosphere of the day and how much smoothly it all runs.
2.
We had a playdate playing Settlers with some friends to whom we were teaching the game. And mom had mom to mom time yeah!
3.
Johann had a little mishap at church on Wednesday night. Just a tiny argument with some chairs that caused him to get a couple of stitches on his eyebrow at the emergency that night.
4
. On the school front, we covered :
Grammar with MCT Grammar Voyage,
Copywork: still in Psalm 1),
Math: Johann started Grade 6 with MCT Math and Zach is finishing up grade 6 getting ready for pre-algebra
History: we started Ancient Greece this week.
French: Johann is moving on very well with Getting Started with French, and Zach is continuing on with Duolingo.
Latin
I decided to include Read-Alouds as part of our school day. I was introduced to the book Guarding he Treasure, and we have been enjoying reading it.
5.
My sister gave the boys a science kit at Christmas, so we enjoyed doing an experiment or two everyday this week.