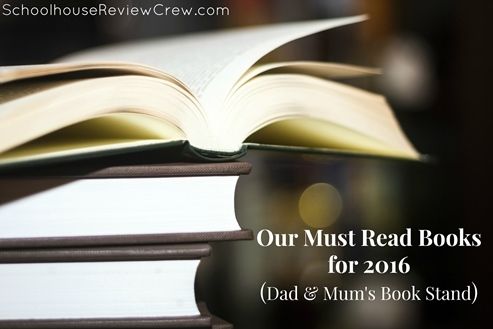 It is 2016 and a new year has started. A year of new beginnings and new resolutions. Among these new resolutions is reading more books. So for this second post of the year I will share with you my list of must read for this year. I will aim at 2 books/month.
Homeschooling and housewife related:
January :
Love the Journey
(finish) - Marcia Sommerville

February: Age of Opportunity (finish) - Paul Tripp
March:
Simply Homeschool
- Karen Debeus
April:
When a Woman Inspires her Husband
-
Cindi McMenamin
May: Marriage Matters - Winston Smith
June:
Homeschooling at the speed of Life

July-August: How to Homeschool 9th and 10th - Lee Binz

September: Choosing Gratitude - Nancy Leigh DeMoss



Christian living and theology related:

January - February: Awe - Paul Tripp

March - April : Ordinary - Michael Horton

May - June: Fool's Talk - Os Guiness

July-August: Counter Culture - David Platt

September - October: How People Change - Timothy Lane and Paul Tripp
November-December:
A Heart for Devotion, Doctrine and Doxology -
Various authors
What' on your book stand?