It's Friday and time to look back at the week and what was accomplished.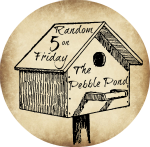 1.
School got done! Hooray for week 2 done. We tackled every subjects on the schedule. Love it when that happens.
2.
We started volleyball with our Homeschool co-op this week. Hooray for being out and exercising.
3
. I had a birthday this week. Yeah I am really close to the 40 mark. One more year to go. I am so thankful for God's grace on my life.
4.
We are really enjoying that science kit I mentioned last week.
5.
I am officially awaiting my first review for the crew this year. Yeah! Math Analogies from the Critical Thinking Co.